OAHN Update and Report Sign-up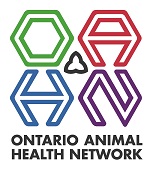 Dear Colleagues
The Ontario Animal Health Network (OAHN) is a collaborative way of looking at disease in animals in Ontario.  Please take a moment to learn about the benefits to you and your practice, and consider signing up for this free, Ontario centered program.  There is now an operational network for each major species group in Ontario.
How does it work?
Practitioners are asked via quarterly online survey about infectious disease and welfare concerns in their species of interest.
Survey information is combined with laboratory data from the species, and the OAHN species network meets to discuss the information.
The OAHN network is comprised of a group of 7-8 veterinarians from the following areas: private practice, OVC, the AHL, and OMAFRA
A report summarizing the important information practitioners need to know is then sent back to you, and a producer/owner level report is distributed to industry groups.
We ask that you take a moment and fill in the form below to sign up for OAHN alerts and reports for your species of interest.  Sign up is simple and free; scroll down and click!   
The value to you:
Report: Species specific, Ontario based information on infectious disease is summarized from colleagues and laboratory data quarterly.  You know what diseases are on the minds of your colleagues, and have been diagnosed.  The reports are meant to help you make better decisions with your clients.
Communication during outbreaks: Pertinent disease alerts, and crucial information will be sent to you directly and immediately if an outbreak occurs. See below for the disease alert about Echinococcus multilocularis. 
Projects/subsidized testing: Your responses prioritize follow up funds for disease issues in your sector.  This year, each OAHN network submitted proposals to address disease issues for their sector, up to $50,000 per species.
Resources for veterinarians: We offer free podcasts (audio recorded interviews) featuring infectious disease topics that veterinarians in Ontario should know about.  We also have a Facebook and Twitter feed for quick info for vets and clients for you to share via your clinic Facebook and Twitter feeds. www.oahn.podbean.com
What is our desired outcome: OAHN seeks to have a regular line of communication with as many veterinarians across Ontario as possible, both to collect information about disease seen in practice (in a manner that is easy for practitioners), as well as sharing of pertinent information regularly.  The desired outcome is veterinarians being able to make more informed decisions with their clients, based on current information on disease in Ontario.
Thank you for your consideration. 
Sincerely,
On behalf of all OAHN networks,
Melanie Barham, DVM
OAHN Coordinator
Animal Health Laboratory, University of Guelph
Find out who is on your species network, and more information about OAHN at www.oahn.ca
DISEASE ALERT: Echinococcus multilocularis
Excerpted from OAHN companion animal report Q3 2015 (November 2015)
Echinococcus multilocularis in Ontario
In August 2015, a dog in Wellington county was diagnosed with alveolar echinococcosis (AE) caused by the tapeworm Echinococcus multilocularis. This brings the total number of Ontario dogs affected to 4 since this parasite was first detected in the province in 2012. E. multilocularis can cause very severe, insidious disease in people, in the form of budding tumor-like masses in internal organs. Dogs (including wild canids) are usually the definitive host for the tapeworm. That means they typically develop intestinal infection with adult worms, and shed eggs in their feces that are infective to intermediate hosts (e.g., small and large mammals, and sometimes people). These eggs look exactly the same as common taenid tapeworm eggs on fecal floatation.
The key question is: from where did these dogs pick up this infection? Most had not travelled outside of Ontario. In October 2015 infection was also detected in a captive non-human primate in the Niagara region. It is possible that the parasite has come in under the radar (likely in an imported dog) and become established in Ontario wildlife. Research is underway to try to answer this question. In the meantime, it is crucial that veterinarians are aware of this potential threat to human and animal health. Emphasis on appropriate fecal examinations, deworming and hygiene around pet feces are of primary importance. For more information on Echinococcus, check out the Worms & Germs website.
Funding for OAHN is provided by provincial and federal Growing Forward 2 monies.