Ontario Rabies Update for September 11 – 1 New Case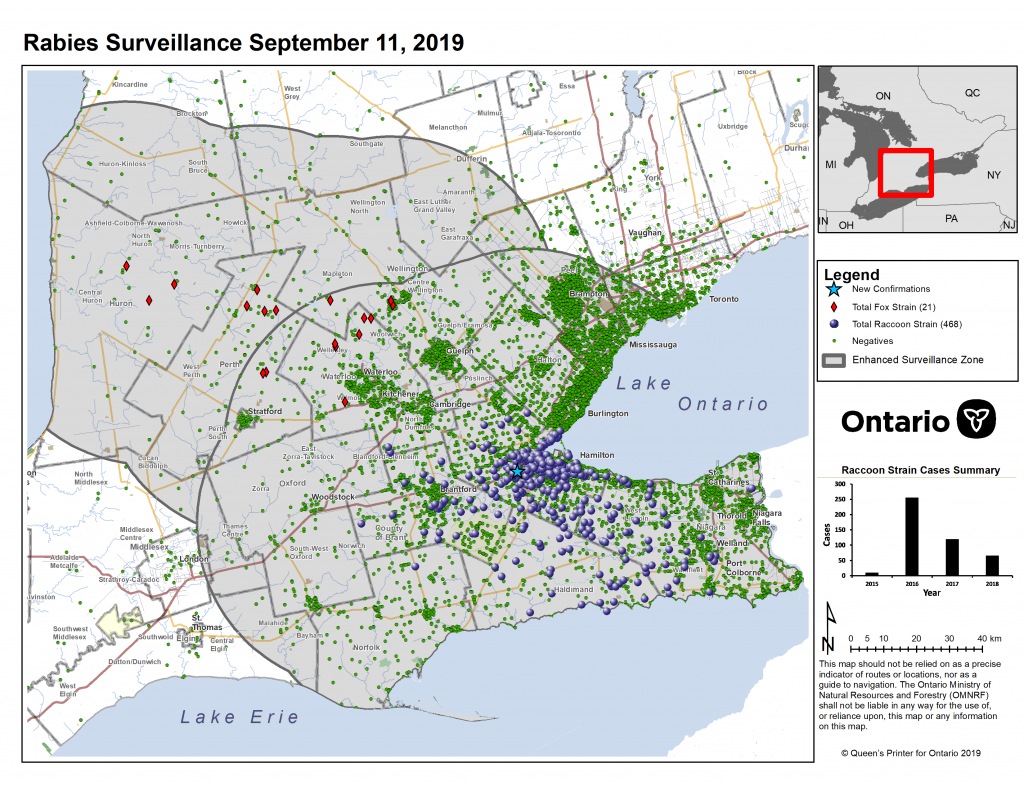 One new case of raccoon rabies detected this week (September 11, 2019) in a skunk (Hamilton).
A case of rabies detected in a skunk in King City was confirmed by the Canadian Food Inspection Agency as bat strain rabies (not included on map or in totals below).
We are currently at 468 cases of raccoon strain, and 21 cases of fox strain rabies in Ontario to date.
Annual Summaries
2019
County

Raccoon

Skunk

Fox

Cat

Bovine

Dog

Total

Brant

1

1

0

0

0

0

2

Haldimand

1

0

0

0

0

0

1

Halton

0

0

0

0

0

0

0

Hamilton

5

8

0

0

0

0

13

Huron

0

0

0

0

0

0

0

Niagara

0

1

0

0

0

1

2

Norfolk

0

0

0

0

0

0

0

Perth

0

0

0

0

0

0

0

Waterloo

0

1

0

0

0

0

1

Waterloo

0

0

0

0

0

0

0

Wellington-Dufferin-Guelph

0

0

0

0

0

0

0

Total Fox Strain

0

0

0

0

0

0

0

Total Raccoon Strain

7

11

0

0

0

 

1

19
Number of DRIT tests: >3,300
Number of baits distributed: >950,000
2018
| | | | | | | |
| --- | --- | --- | --- | --- | --- | --- |
| County | Raccoon | Skunk | Fox | Cat | Bovine | Total |
| Brant | 6 | 0 | 0 | 0 | 0 | 6 |
| Haldimand | 4 | 0 | 0 | 0 | 0 | 4 |
| Halton | 0 | 0 | 0 | 0 | 0 | 0 |
| Hamilton | 29 | 7 | 0 | 0 | 0 | 36 |
| Huron | 0 | 1 | 0 | 0 | 0 | 1 |
| Niagara | 10 | 7 | 0 | 0 | 0 | 17 |
| Norfolk | 1 | 0 | 0 | 0 | 0 | 1 |
| Perth | 0 | 0 | 0 | 0 | 1 | 1 |
| Waterloo | 0 | 1 | 0 | 0 | 0 | 1 |
| Waterloo | 0 | 2 | 0 | 0 | 0 | 2 |
| Wellington-Dufferin-Guelph | 0 | 3 | 0 | 0 | 0 | 3 |
| Total Fox Strain | 0 | 6 | 0 | 0 | 1 | 7 |
| Total Raccoon Strain | 50 | 15 | 0 | 0 | 0 | 65 |
Number of DRIT tests: >3,800
Number of baits distributed: 1,444,161
2017
| | | | | | | |
| --- | --- | --- | --- | --- | --- | --- |
| County | Raccoon | Skunk | Fox | Cat | Bovine | Total |
| Brant | 8 | 0 | 0 | 0 | 0 | 8 |
| Haldimand | 6 | 2 | 0 | 0 | 0 | 8 |
| Halton | 8 | 9 | 0 | 0 | 0 | 17 |
| Hamilton | 45 | 19 | 0 | 1 | 0 | 65 |
| Huron | 0 | 1 | 0 | 0 | 1 | 2 |
| Niagara | 19 | 2 | 0 | 0 | 0 | 21 |
| Perth | 0 | 1 | 0 | 0 | 3 | 4 |
| Waterloo | 0 | 3 | 1 | 0 | 0 | 4 |
| Total Fox Strain | 0 | 5 | 1 | 0 | 4 | 10 |
| Total Raccoon Strain | 86 | 32 | 0 | 1 | 0 | 119 |
Number of DRIT tests: >4,000
Number of baits distributed: >1.1M
2016
| | | | | | | | |
| --- | --- | --- | --- | --- | --- | --- | --- |
| County | Raccoon | Skunk | Fox | Cat | Llama | Bovine | Total |
| Brant | 11 | 1 | 0 | 0 | 0 | 0 | 12 |
| Haldimand | 17 | 0 | 0 | 0 | 1 | 0 | 18 |
| Halton | 7 | 2 | 0 | 0 | 0 | 0 | 9 |
| Hamilton | 126 | 76 | 1 | 1 | 0 | 0 | 204 |
| Huron | 0 | 1 | 0 | 0 | 0 | 0 | 1 |
| Niagara | 10 | 2 | 0 | 0 | 0 | 0 | 12 |
| Perth | 0 | 1 | 0 | 0 | 0 | 1 | 2 |
| Total Fox Strain | 0 | 2 | 0 | 0 | 0 | 1 | 3 |
| Total Raccoon Strain | 171 | 81 | 1 | 1 | 1 | 0 | 255 |
Number of DRIT tests: >4,500
Number of baits distributed: >1.6 million
2015 (December only)
| | | | |
| --- | --- | --- | --- |
| County | Raccoon | Bovine | Total |
| Haldimand | 1 | 0 | 1 |
| Hamilton | 9 | 0 | 9 |
| Perth | 0 | 1 | 1 |
| Total Fox Strain | 0 | 1 | 1 |
| Total Raccoon Strain | 10 | 0 | 10 |
Number of DRIT tests: >150
Number of baits distributed: ~220,000