Ontario Rabies Update for March 18, 2020 – 0 New Cases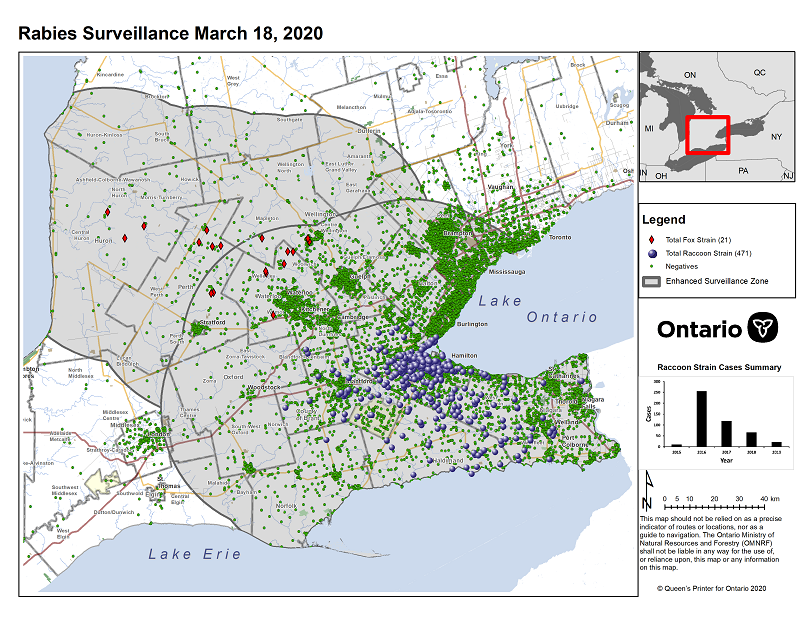 No new cases of rabies detected last week (March 18, 2020).
We are currently at 471 cases of raccoon strain, and 21 cases of fox strain rabies in Ontario to date.
Annual Summaries
Numbers in red in all tables are fox strain.
Numbers in black in all tables are raccoon strain.
2020
| | | | | | | | |
| --- | --- | --- | --- | --- | --- | --- | --- |
| County | Raccoon | Skunk | Fox | Cat | Bovine | Dog | Total |
| Brant | 0 | 0 | 0 | 0 | 0 | 0 | 0 |
| Haldimand | 0 | 0 | 0 | 0 | 0 | 0 | 0 |
| Halton | 0 | 0 | 0 | 0 | 0 | 0 | 0 |
| Hamilton | 0 | 0 | 0 | 0 | 0 | 0 | 0 |
| Huron | 0 | 0 | 0 | 0 | 0 | 0 | 0 |
| Niagara | 0 | 0 | 0 | 0 | 0 | 0 | 0 |
| Norfolk | 0 | 0 | 0 | 0 | 0 | 0 | 0 |
| Perth | 0 | 0 | 0 | 0 | 0 | 0 | 0 |
| Waterloo | 0 | 0 | 0 | 0 | 0 | 0 | 0 |
| Waterloo | 0 | 0 | 0 | 0 | 0 | 0 | 0 |
| Wellington-Dufferin-Guelph | 0 | 0 | 0 | 0 | 0 | 0 | 0 |
| Total Fox Strain | 0 | 0 | 0 | 0 | 0 | 0 | 0 |
| Total Raccoon Strain | 0 | 0 | 0 | 0 | 0 |  0 | 0 |
Number of DRIT tests: 935
Number of baits distributed: 0
Number of confirmatory tests performed by CFIA (Ontario only, including bats): 2
Number of confirmatory test performed by CFIA (Ontario only, terrestrial animals only): 0
Number of rabies positive terrestrial animals subject to virus variant typing by CFIA (Ontario only): 0
2019
| | | | | | | | |
| --- | --- | --- | --- | --- | --- | --- | --- |
| County | Raccoon | Skunk | Fox | Cat | Bovine | Dog | Total |
| Brant | 1 | 1 | 0 | 0 | 0 | 0 | 2 |
| Haldimand | 1 | 0 | 0 | 0 | 0 | 0 | 1 |
| Halton | 0 | 0 | 0 | 0 | 0 | 0 | 0 |
| Hamilton | 6 | 8 | 0 | 0 | 0 | 0 | 14 |
| Huron | 0 | 0 | 0 | 0 | 0 | 0 | 0 |
| Niagara | 1 | 2 | 0 | 0 | 0 | 1 | 4 |
| Norfolk | 0 | 0 | 0 | 0 | 0 | 0 | 0 |
| Perth | 0 | 0 | 0 | 0 | 0 | 0 | 0 |
| Waterloo | 0 | 1 | 0 | 0 | 0 | 0 | 1 |
| Waterloo | 0 | 0 | 0 | 0 | 0 | 0 | 0 |
| Wellington-Dufferin-Guelph | 0 | 0 | 0 | 0 | 0 | 0 | 0 |
| Total Fox Strain | 0 | 0 | 0 | 0 | 0 | 0 | 0 |
| Total Raccoon Strain | 9 | 12 | 0 | 0 | 0 | 1 | 22 |
Number of DRIT tests: 4,425
Number of baits distributed: 1,164,992
Number of confirmatory tests performed by CFIA (Ontario only, including bats): 39
Number of confirmatory test performed by CFIA (Ontario only, terrestrial animals only): 26
Number of rabies positive terrestrial animals subject to virus variant typing by CFIA (Ontario only): 23
2018
| | | | | | | |
| --- | --- | --- | --- | --- | --- | --- |
| County | Raccoon | Skunk | Fox | Cat | Bovine | Total |
| Brant | 6 | 0 | 0 | 0 | 0 | 6 |
| Haldimand | 4 | 0 | 0 | 0 | 0 | 4 |
| Halton | 0 | 0 | 0 | 0 | 0 | 0 |
| Hamilton | 29 | 7 | 0 | 0 | 0 | 36 |
| Huron | 0 | 1 | 0 | 0 | 0 | 1 |
| Niagara | 10 | 7 | 0 | 0 | 0 | 17 |
| Norfolk | 1 | 0 | 0 | 0 | 0 | 1 |
| Perth | 0 | 0 | 0 | 0 | 1 | 1 |
| Waterloo | 0 | 1 | 0 | 0 | 0 | 1 |
| Waterloo | 0 | 2 | 0 | 0 | 0 | 2 |
| Wellington-Dufferin-Guelph | 0 | 3 | 0 | 0 | 0 | 3 |
| Total Fox Strain | 0 | 6 | 0 | 0 | 1 | 7 |
| Total Raccoon Strain | 50 | 15 | 0 | 0 | 0 | 65 |
Number of DRIT tests: >3,800
Number of baits distributed: 1,444,161
Number of confirmatory tests performed by CFIA (Ontario only): 81
Number of rabies positive terrestrial animals subject to virus variant typing by CFIA (Ontario only): 74
2017
| | | | | | | |
| --- | --- | --- | --- | --- | --- | --- |
| County | Raccoon | Skunk | Fox | Cat | Bovine | Total |
| Brant | 8 | 0 | 0 | 0 | 0 | 8 |
| Haldimand | 6 | 2 | 0 | 0 | 0 | 8 |
| Halton | 8 | 9 | 0 | 0 | 0 | 17 |
| Hamilton | 45 | 19 | 0 | 1 | 0 | 65 |
| Huron | 0 | 1 | 0 | 0 | 1 | 2 |
| Niagara | 19 | 2 | 0 | 0 | 0 | 21 |
| Perth | 0 | 1 | 0 | 0 | 3 | 4 |
| Waterloo | 0 | 3 | 1 | 0 | 0 | 4 |
| Total Fox Strain | 0 | 5 | 1 | 0 | 4 | 10 |
| Total Raccoon Strain | 86 | 32 | 0 | 1 | 0 | 119 |
Number of DRIT tests: >4,000
Number of baits distributed: >1.1M
Number of confirmatory tests performed by CFIA (Ontario only): 138
Number of rabies positive terrestrial animals subject to virus variant typing by CFIA (Ontario only):  127
2016
| | | | | | | | |
| --- | --- | --- | --- | --- | --- | --- | --- |
| County | Raccoon | Skunk | Fox | Cat | Llama | Bovine | Total |
| Brant | 11 | 1 | 0 | 0 | 0 | 0 | 12 |
| Haldimand | 17 | 0 | 0 | 0 | 1 | 0 | 18 |
| Halton | 7 | 2 | 0 | 0 | 0 | 0 | 9 |
| Hamilton | 126 | 76 | 1 | 1 | 0 | 0 | 204 |
| Huron | 0 | 1 | 0 | 0 | 0 | 0 | 1 |
| Niagara | 10 | 2 | 0 | 0 | 0 | 0 | 12 |
| Perth | 0 | 1 | 0 | 0 | 0 | 1 | 2 |
| Total Fox Strain | 0 | 2 | 0 | 0 | 0 | 1 | 3 |
| Total Raccoon Strain | 171 | 81 | 1 | 1 | 1 | 0 | 255 |
Number of DRIT tests: >4,500
Number of baits distributed: >1.6 million
2015 (December only)
| | | | |
| --- | --- | --- | --- |
| County | Raccoon | Bovine | Total |
| Haldimand | 1 | 0 | 1 |
| Hamilton | 9 | 0 | 9 |
| Perth | 0 | 1 | 1 |
| Total Fox Strain | 0 | 1 | 1 |
| Total Raccoon Strain | 10 | 0 | 10 |
Number of DRIT tests: >150
Number of baits distributed: ~220,000