Ontario Rabies Update for January 17 – 3 New Cases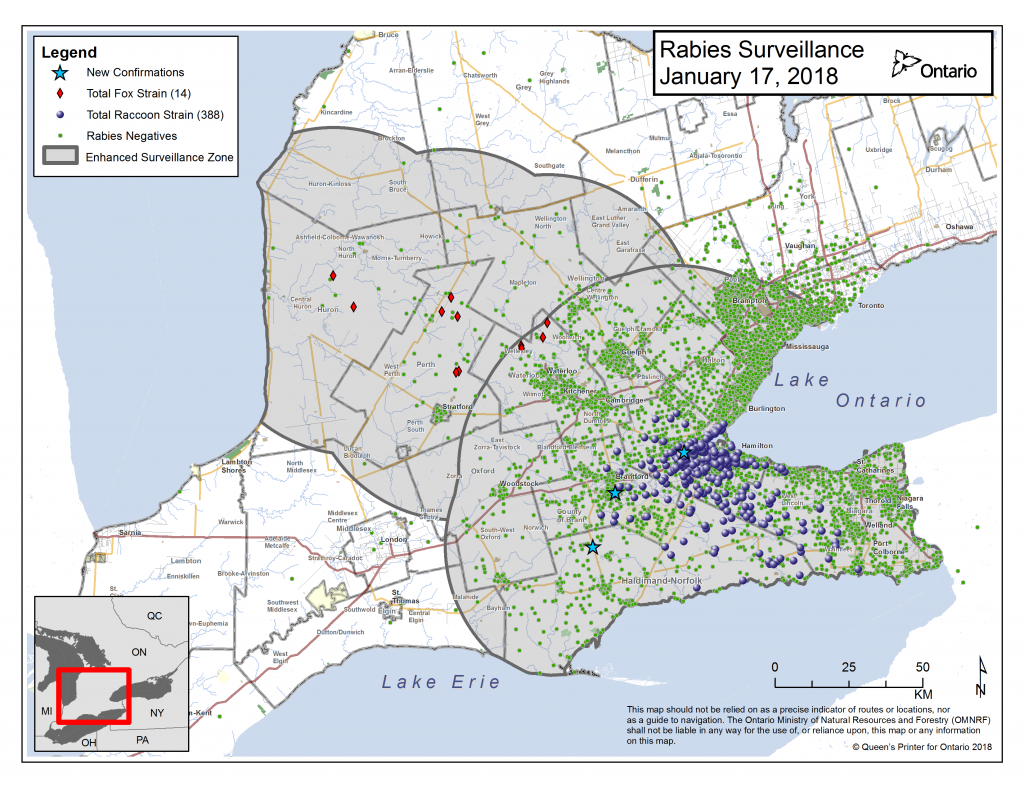 3 new positive cases of raccoon rabies in 2 raccoons (Brant and Haldimand) and 1 skunk from Hamilton.
The raccoon case in Haldimand has led to an 8.5 km expansion of the rabies surveillance and control zone to the southwest of the current zone.
We are currently at 388 cases of raccoon strain, and 14 cases of fox strain rabies in Ontario to date.
Annual Summaries
Numbers in italics in all tables are fox strain.
2018
| | | | | | | |
| --- | --- | --- | --- | --- | --- | --- |
| County | Raccoon | Skunk | Fox | Cat | Bovine | Total |
| Brant | 1 | 0 | 0 | 0 | 0 | 1 |
| Haldimand | 1 | 0 | 0 | 0 | 0 | 1 |
| Halton | 0 | 0 | 0 | 0 | 0 | 0 |
| Hamilton | 2 | 0 | 0 | 0 | 0 | 2 |
| Huron | 0 | 0 | 0 | 0 | 0 | 0 |
| Niagara | 0 | 0 | 0 | 0 | 0 | 0 |
| Perth | 0 | 0 | 0 | 0 | 0 | 0 |
| Waterloo | 0 | 0 | 0 | 0 | 0 | 0 |
| Total Fox Strain | 0 | 0 | 0 | 0 | 0 | 0 |
| Total Raccoon Strain | 4 | 0 | 0 | 0 | 0 | 4 |
Number of DRIT tests: >100
Number of baits distributed: 0
2017
| | | | | | | |
| --- | --- | --- | --- | --- | --- | --- |
| County | Raccoon | Skunk | Fox | Cat | Bovine | Total |
| Brant | 8 | 0 | 0 | 0 | 0 | 8 |
| Haldimand | 6 | 2 | 0 | 0 | 0 | 8 |
| Halton | 8 | 9 | 0 | 0 | 0 | 17 |
| Hamilton | 45 | 19 | 0 | 1 | 0 | 65 |
| Huron | 0 | 1 | 0 | 0 | 1 | 2 |
| Niagara | 19 | 2 | 0 | 0 | 0 | 21 |
| Perth | 0 | 1 | 0 | 0 | 3 | 4 |
| Waterloo | 0 | 3 | 1 | 0 | 0 | 4 |
| Total Fox Strain | 0 | 5 | 1 | 0 | 4 | 10 |
| Total Raccoon Strain | 86 | 32 | 0 | 1 | 0 | 119 |
Number of DRIT tests: >3,000
Number of baits distributed: >1.1M
2016
| | | | | | | | |
| --- | --- | --- | --- | --- | --- | --- | --- |
| County | Raccoon | Skunk | Fox | Cat | Llama | Bovine | Total |
| Brant | 11 | 1 | 0 | 0 | 0 | 0 | 12 |
| Haldimand | 17 | 0 | 0 | 0 | 1 | 0 | 18 |
| Halton | 7 | 2 | 0 | 0 | 0 | 0 | 9 |
| Hamilton | 126 | 76 | 1 | 1 | 0 | 0 | 204 |
| Huron | 0 | 1 | 0 | 0 | 0 | 0 | 1 |
| Niagara | 10 | 2 | 0 | 0 | 0 | 0 | 12 |
| Perth | 0 | 1 | 0 | 0 | 0 | 1 | 2 |
| Total Fox Strain | 0 | 2 | 0 | 0 | 0 | 1 | 3 |
| Total Raccoon Strain | 171 | 81 | 1 | 1 | 1 | 0 | 255 |
Number of DRIT tests: >4,500
Number of baits distributed: >1.6 million
2015 (December only)
| | | | |
| --- | --- | --- | --- |
| County | Raccoon | Bovine | Total |
| Haldimand | 1 | 0 | 1 |
| Hamilton | 9 | 0 | 9 |
| Perth | 0 | 1 | 1 |
| Total Fox Strain | 0 | 1 | 1 |
| Total Raccoon Strain | 10 | 0 | 10 |