Ontario Rabies Update for August 22 – 4 New Cases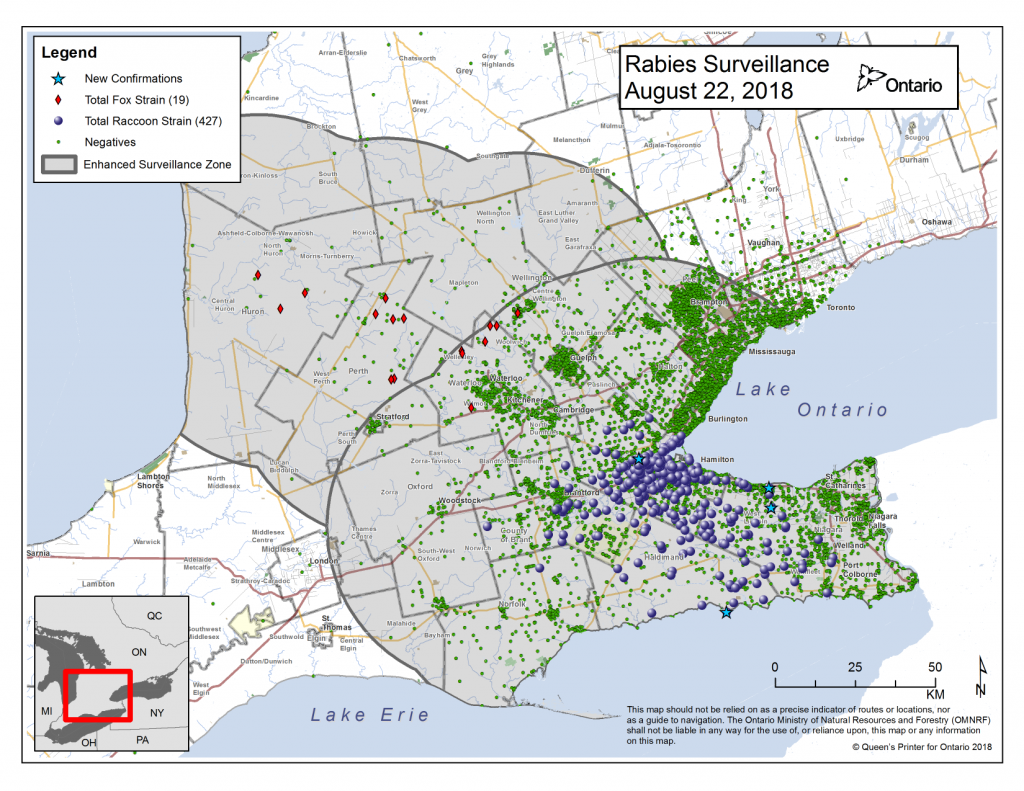 4 new cases of raccoon rabies in four raccoons (Niagara, Haldimand and Hamilton) this week.
We are currently at 427 cases of raccoon strain, and 19 cases of fox strain rabies in Ontario to date.
The maps will be submitted for posting on the Ontario.ca website after 1 business day unless one of the affected health units advises us to postpone release pending specific health unit website updates or media releases. 
Annual Summaries
Numbers in italics in all tables are fox strain.
2018
| | | | | | | |
| --- | --- | --- | --- | --- | --- | --- |
| County | Raccoon | Skunk | Fox | Cat | Bovine | Total |
| Brant | 4 | 0 | 0 | 0 | 0 | 4 |
| Haldimand | 3 | 0 | 0 | 0 | 0 | 3 |
| Halton | 0 | 0 | 0 | 0 | 0 | 0 |
| Hamilton | 19 | 4 | 0 | 0 | 0 | 23 |
| Huron | 0 | 1 | 0 | 0 | 0 | 1 |
| Niagara | 8 | 4 | 0 | 0 | 0 | 12 |
| Norfolk | 1 | 0 | 0 | 0 | 0 | 1 |
| Perth | 0 | 0 | 0 | 0 | 1 | 1 |
| Waterloo | 0 | 2 | 0 | 0 | 0 | 2 |
| Wellington-Dufferin-Guelph | 0 | 1 | 0 | 0 | 0 | 1 |
| Total Fox Strain | 0 | 4 | 0 | 0 | 1 | 5 |
| Total Raccoon Strain | 35 | 8 | 0 | 0 | 0 | 43 |
Number of DRIT tests: >2,300
Number of baits distributed: 241,401
2017
| | | | | | | |
| --- | --- | --- | --- | --- | --- | --- |
| County | Raccoon | Skunk | Fox | Cat | Bovine | Total |
| Brant | 8 | 0 | 0 | 0 | 0 | 8 |
| Haldimand | 6 | 2 | 0 | 0 | 0 | 8 |
| Halton | 8 | 9 | 0 | 0 | 0 | 17 |
| Hamilton | 45 | 19 | 0 | 1 | 0 | 65 |
| Huron | 0 | 1 | 0 | 0 | 1 | 2 |
| Niagara | 19 | 2 | 0 | 0 | 0 | 21 |
| Perth | 0 | 1 | 0 | 0 | 3 | 4 |
| Waterloo | 0 | 3 | 1 | 0 | 0 | 4 |
| Total Fox Strain | 0 | 5 | 1 | 0 | 4 | 10 |
| Total Raccoon Strain | 86 | 32 | 0 | 1 | 0 | 119 |
Number of DRIT tests: >3,000
Number of baits distributed: >1.1M
2016
| | | | | | | | |
| --- | --- | --- | --- | --- | --- | --- | --- |
| County | Raccoon | Skunk | Fox | Cat | Llama | Bovine | Total |
| Brant | 11 | 1 | 0 | 0 | 0 | 0 | 12 |
| Haldimand | 17 | 0 | 0 | 0 | 1 | 0 | 18 |
| Halton | 7 | 2 | 0 | 0 | 0 | 0 | 9 |
| Hamilton | 126 | 76 | 1 | 1 | 0 | 0 | 204 |
| Huron | 0 | 1 | 0 | 0 | 0 | 0 | 1 |
| Niagara | 10 | 2 | 0 | 0 | 0 | 0 | 12 |
| Perth | 0 | 1 | 0 | 0 | 0 | 1 | 2 |
| Total Fox Strain | 0 | 2 | 0 | 0 | 0 | 1 | 3 |
| Total Raccoon Strain | 171 | 81 | 1 | 1 | 1 | 0 | 255 |
Number of DRIT tests: >4,500
Number of baits distributed: >1.6 million
2015 (December only)
| | | | |
| --- | --- | --- | --- |
| County | Raccoon | Bovine | Total |
| Haldimand | 1 | 0 | 1 |
| Hamilton | 9 | 0 | 9 |
| Perth | 0 | 1 | 1 |
| Total Fox Strain | 0 | 1 | 1 |
| Total Raccoon Strain | 10 | 0 | 10 |
Number of DRIT tests: >150
Number of baits distributed: ~220,000