Using Facebook for Veterinary Research and News
Why Use Facebook?
• Social Media accounts can help you easily find research and academic articles that are specific to your interests.
• You can stay up-to-date on animal health and disease issues and news without having to search for it.
• You can filter social media content to only display valuable information for what you want to read.
• You will be informed of disease alerts and breaking news sooner than if you rely on colleagues and newsletters for this information.
• You can customize the information you want to see.
Using Facebook as an individual vs. an organization/business
If you are a business owner, you can set up a "Page" for your business. This page is specific to Facebook, and serves as a great way to interact with clients and share valuable information with them. You can have all of the details about your business on the page; announce any changes to hours, welcome new vets, and share updates and content that your clients will like. If clients enjoy the content you share, they will "Like" or "share" your posts, which furthers the reach of your business, and can act as marketing and outreach.
When you have signed into Facebook, you can click on the arrow in the top right corner of your screen. In the dropdown you can choose to use Facebook as your organization/business.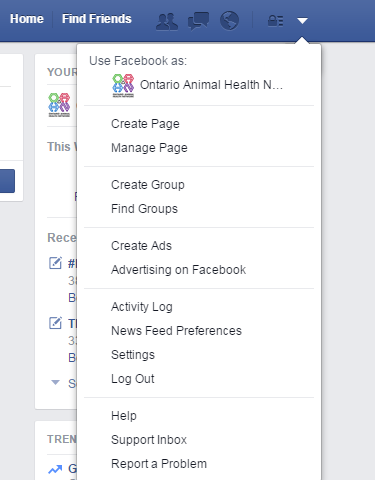 Hashtags
A hashtag is a word or phrase (with no spaces) that proceeds a "Hash" or "pound" symbol. Such as #animalhealth, #horses, #swinevet. It can be used as a search tool to find other content in a social media space that is similar, or as a way to participate in a social media conversation.
Hashtags as a Navigation Tool
Hashtags can be used on Facebook as a navigation tool, and can be used by an organization as a way to "tag" or organize their social media content. If you see a hashtag on an article that interests you, you can click on that hashtag, which will then bring up all other posts on that social media platform with the same hashtag.
An Example
If you are a poultry vet and are scrolling through the OAHN Facebook page and come across an article that interests you, the article will usually have a hashtag attached to it – #poultryvet #oahnpoultry #poultry #avianinfluenza, etc. To find more articles that are similar to this one, simply click on the hashtag, and other articles with that hashtag will be displayed. This is an easy way to find only the content that you want to read.

Hashtags Used by OAHN

General
#oahnvets #oahn
Equine
#horseowner #oahnequine #equinevet
Bovine
#bovineproducer #oahnbovine #bovinevet
Companion Animals
#companionowners #companionvet
Poultry
#poultryproducer #backyardflocks #poultryvet
Swine
#swineproducer #swinevet
Wildlife
#oahnwildlife
Fish
#oahnfish
Small ruminants
#goatvet #sheepvet #goatproducer #sheepproducer #oahnsr
Bees
#oahnbees

Likes
"Like"ing something on Facebook has a number of different functions depending on what it is you are liking. If you go to the OAHN Facebook page and "Like" it, you will now receive all posts that OAHN makes in your own Facebook timeline. If you like a post that OAHN has made, this shows OAHN what posts people are interested in, and can also be used to share the article with your Facebook connections. However, since Facebook has a limited amount of space, it will not always be shared with your Facebook connections.
You can also "Like" a page as an organization. When you are using Facebook as a "Page" (discussed above), if you "Like" a page or post, it will appear that the organization/business has "Liked" the page or post.
Shares
You can share posts to your personal page or pages that you manage (your businesses Facebook page). To do this, simply click on the "Share" button at the bottom of the Post.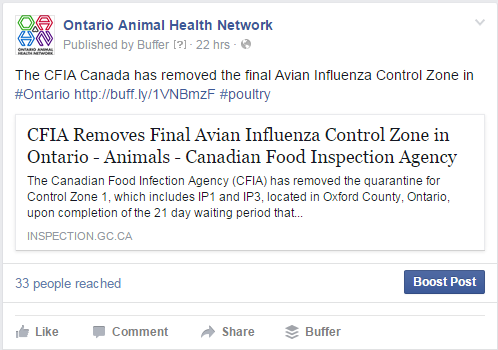 When you click "Share," you will have the option to post to your personal page, or a page you manage.
Comments
You can comment on anything that is shared on a page you like, but keep in mind that these comments will be seen by everyone else that likes the page, as well as the Page managers/owners. It's a great way to get clarification and ask follow up questions, and is also a great method to interact with your own clients. Comments provide a direct line of communication between an organization and the people that like the page.
Using Facebook as a Continuing Education Tool

Navigate towards OAHN's Facebook page, by entering the following link, or inputting Ontario Animal Health Network in the top search bar: https://www.facebook.com/OntarioAnimalHealthNetwork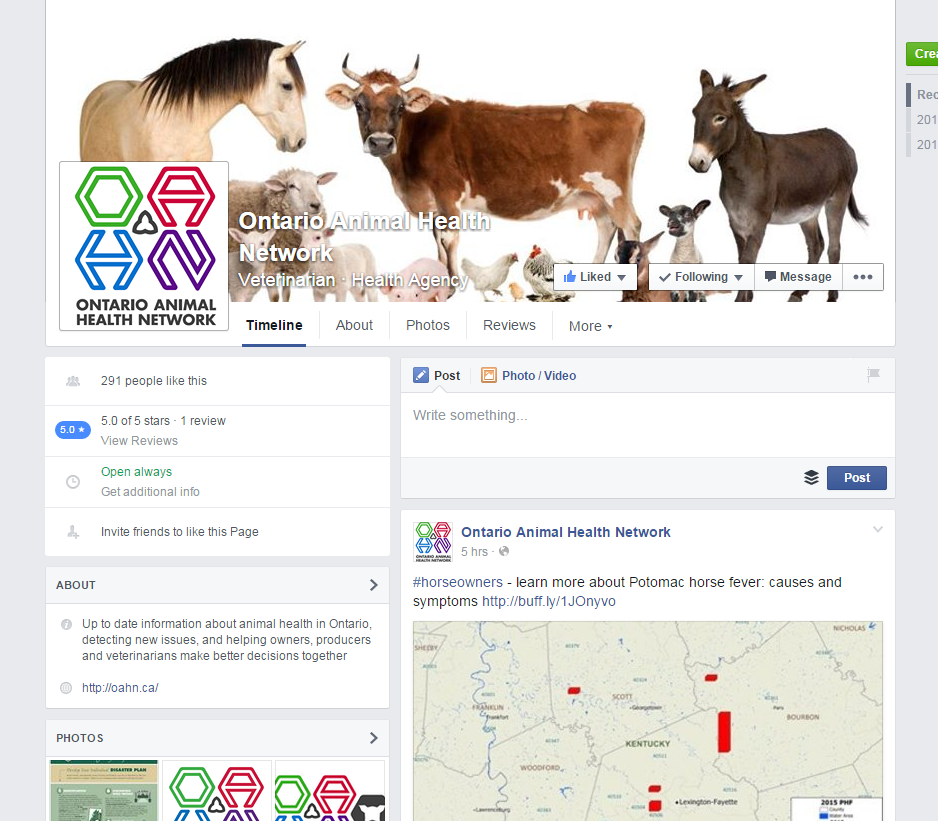 Once there, click the "Like" button that appears in the bottom right of the large "Cover Photo". You will now start seeing updates from OAHN appear in your Facebook timeline. These are posted a few times per day. If you miss them, simply go to the OAHN Facebook page and scroll through the page. If you wish to only see certain types of posts, you can click on the "hashtag" that is in the post.  Clicking the hashtag will bring you to other similar posts, which will be of interest to you or your clients.
If you want to see more of this type of content posted to the OAHN page, click "Like" on the post, as this provides feedback for us. If you want to share it with Facebook friends or on your client page, click "Share" and choose the appropriate option.