Ontario Rabies Update for December 13 – 6 New Cases
5 new positive cases of presumed raccoon strain rabies this week, occurring in 2 raccoons and 2 skunks from Hamilton, and 1 raccoon from Brant County.  In addition, 1 new case of presumed fox strain rabies occurring in 1 skunk from Huron County.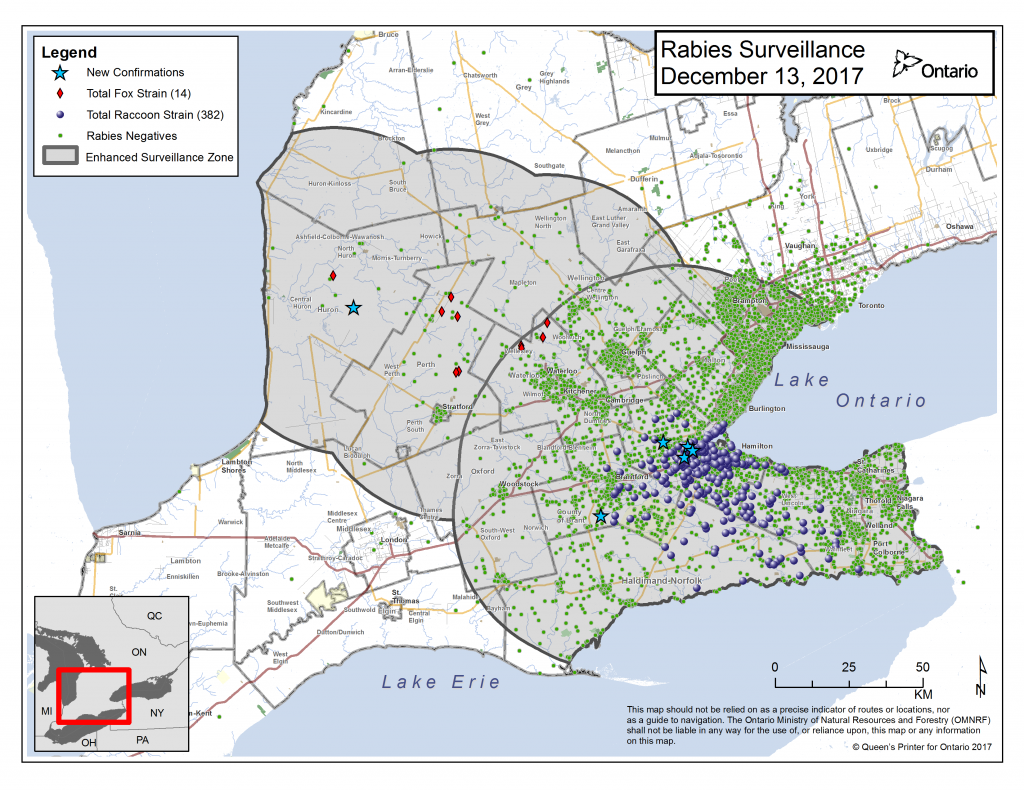 We are currently at 382 cases of raccoon strain, and 14 cases of fox strain rabies in Ontario to date.


2017
| | | | | | | |
| --- | --- | --- | --- | --- | --- | --- |
| County | Raccoon | Skunk | Fox | Cat | Bovine | Total |
| Brant | 8 | 0 | 0 | 0 | 0 | 8 |
| Haldimand | 6 | 2 | 0 | 0 | 0 | 8 |
| Halton | 8 | 9 | 0 | 0 | 0 | 17 |
| Hamilton | 44 | 18 | 0 | 1 | 0 | 63 |
| Huron | 0 | 1 | 0 | 0 | 1 | 2 |
| Niagara | 19 | 2 | 0 | 0 | 0 | 21 |
| Perth | 0 | 1 | 0 | 0 | 3 | 4 |
| Waterloo | 0 | 3 | 1 | 0 | 0 | 4 |
| Total Fox Strain | 0 | 4 | 1 | 0 | 4 | 9 |
| Total Raccoon Strain | 85 | 31 | 0 | 1 | 0 | 117 |
Number of DRIT tests: >3,000
Number of baits distributed: >1.1M
2016
| | | | | | | | |
| --- | --- | --- | --- | --- | --- | --- | --- |
| County | Raccoon | Skunk | Fox | Cat | Llama | Bovine | Total |
| Brant | 11 | 1 | 0 | 0 | 0 | 0 | 12 |
| Haldimand | 17 | 0 | 0 | 0 | 1 | 0 | 18 |
| Halton | 7 | 2 | 0 | 0 | 0 | 0 | 9 |
| Hamilton | 126 | 76 | 1 | 1 | 0 | 0 | 204 |
| Huron | 0 | 1 | 0 | 0 | 0 | 0 | 1 |
| Niagara | 10 | 2 | 0 | 0 | 0 | 0 | 12 |
| Perth | 0 | 1 | 0 | 0 | 0 | 1 | 2 |
| Total Fox Strain | 0 | 2 | 0 | 0 | 0 | 1 | 3 |
| Total Raccoon Strain | 171 | 81 | 1 | 1 | 1 | 0 | 255 |
Number of DRIT tests: >4,500
Number of baits distributed: >1.6 million
2015 (December only)
| | | | |
| --- | --- | --- | --- |
| County | Raccoon | Bovine | Total |
| Haldimand | 1 | 0 | 1 |
| Hamilton | 9 | 0 | 9 |
| Perth | 0 | 1 | 1 |
| Total Fox Strain | 0 | 1 | 1 |
| Total Raccoon Strain | 10 | 0 | 10 |
Number of DRIT tests: >150
Number of baits distributed: ~220,000